3 TSBC Board Members Honoured For TRAC Lifetime Achievement Award
On June 14, 2022, the Tire and Rubber Association of Canada (TRAC) recognized outstanding individuals and businesses for their dedication and commitment to excellence in the tire and rubber industry including end-of-life tire management businesses and other businesses focused on sustainability. The TRAC Awards Ceremony took place immediately following the Association's Annual General Meeting on June 14, 2022, at the Alt Hotel Toronto Airport in Mississauga.
For the Lifetime Achievement Awards, 3 past and present TSBC board members were honoured for their work: Don Blythe, Don Campbell, and Glenn Maidment. We are so proud to have worked with these honourees and congratulate them all on this recognition for their hard work in the industry.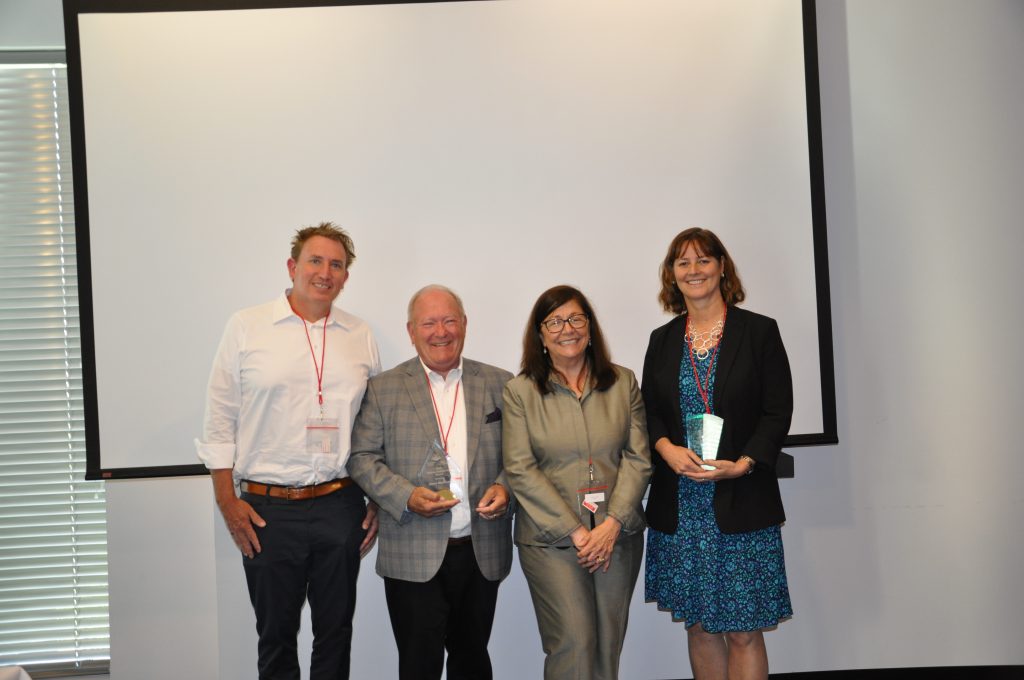 Don Blythe, OK Tire / Western Canada Tire Dealers (awarded posthumously)
Don Blythe had over 60 years of experience in the industry. He began his career with Goodyear Saskatoon in 1957. He joined OK Tire in 1972 and was instrumental in forming an OK Tire Franchised Dealer Committee to explore the possibility of the Canadian dealers (49) purchasing OK Tire Stores Canada Ltd. from Ashland Oil (Kentucky). In 1973, a 100% OK franchised dealer-owned marketing group OK Tire Stores Inc. was formed. He was named President of OK Tire in 1983.
Don was elected to the Board of the Western Canada Tire Dealers and Retreaders Association (today WCTD) in 1982. After retiring from OK Tire in 2003, he became Executive Director for WCTD until 2009. Don was instrumental in establishing Tire Stewardship BC (TSBC) and several end-of-life tire programs in Canada and remained at the helm of TSBC until his passing in 2018.
Don was named to the Western Canada Tire Dealers Hall of Fame in 2008 and named to the Tire Industry Association (TIA) Hall of Fame in 2010. He was deeply respected by the tire business across North America.
Don Campbell, Industry Canada / Tire and Rubber Association of Canada
The Canadian tire industry owes Don a debt of gratitude for his vision and dedication to the industry under Industry Canada and as past president of TRAC (1997–2001). Within the framework of NAFTA negotiations in the 1980s, Don championed the development of a duty remission program that allowed rubber companies to claim the return of duties in return for new investment in Canada. This duty remission accrued approximately $250 million, and the industry invested close to $1 billion in new tire plants and equipment in Canada. Thanks to these efforts, Canadian tire manufacturers (Bridgestone, Goodyear, and Michelin) operate world-class facilities that are fully integrated into their manufacturing operations worldwide. Today's tire manufacturing landscape in Canada would not be as robust or healthy had it not been for the work of Don Campbell.
Glenn Maidment, Tire and Rubber Association of Canada
Glenn's tire and rubber industry career spanned 51 years with 30 years working for the Tire and Rubber Association of Canada (formerly Rubber Association of Canada, RAC), and nearly 20 years as the Association's President. Under his vision, the tire industry and governments developed sustainable and self-sufficient non-profit enterprises that meet their financial and recycling obligations. He was instrumental in the development and implementation of tire stewardship regulations and the establishment of stewardship organizations responsible for tire recycling in British Columbia, Manitoba, and Ontario. Today, these industry-led programs set the standard for producer responsibility internationally.