Prince George Residents Invited to Drop Off Scrap Tires at the Junk in the Trunk Event
Prince George residents: Do you have old car tires lying around? Bring them to the Junk in the Trunk event in Prince George this weekend and we'll collect them to be recycled into new products.
TSBC has partnered with the Recycling and Environmental Action Planning Society (REAPS) and Liberty Tire to collect residential scrap tires this weekend at the Junk in the Trunk event–Prince George's largest garage sale with over 125 vendors on site. The event is organized by Recycling & Environmental Action Planning Society (REAPS), a charitable non-profit society working towards waste avoidance in the Regional District of Fraser-Fort George.
At last year's event, over 3,000 scrap tires were collected and recycled into new things like playground surfaces, running tracks, and rubber mats for horses.
"We are looking forward to participating once again in this much-anticipated community event," said Rosemary Sutton, Executive Director, TSBC. "Any residential tires we collect will be recycled and re-purposed within the province and will become something new. Athletic tracks, playground surfaces, and ice rink dressing room flooring, such as in the CN Centre dressing room, which was made with 575 scrap tires."
Since 1991, over 100 million tires have been recycled in BC. TSBC's scrap tire recycling program is one of the most successful in North America and the oldest recycling program in Canada. Every year in BC over five million scrap car tires are recycled into new products.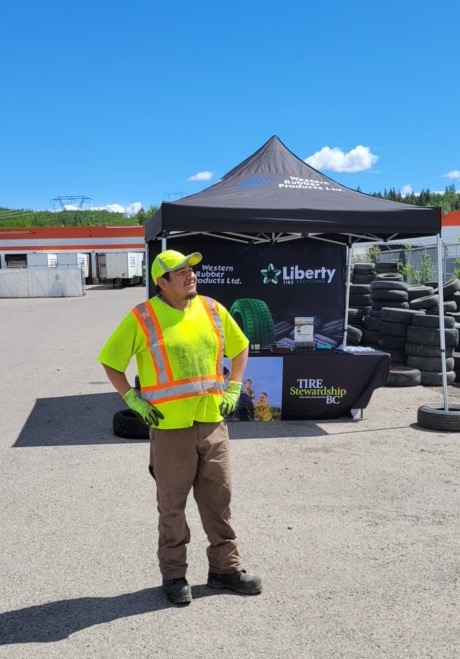 "TSBC is always looking for opportunities throughout the province to participate in community events, and to partner with businesses, organizations and local governments that focus on recycling and environmentally sustainability," continued Sutton.
TSBC currently has over 20 Return to Retailer (R2R) locations in Prince George that residents can visit throughout the year and return their scrap tires for free. If you're unable to make it to this event, find a location near you and recycle your tires for free.
And if you're in another part of BC, be sure to check our collection events page (regularly updated) for an event near you.
Event Details:
Junk in the Trunk Event – Prince George's largest garage sale with 125 vendors
Location: CN Centre Parking Lot (2187 Ospika Blvd S #100)
Saturday, April 29 @ 9am – 1 pm